ThorTraffic enables data exchange via ITS-G5 with passing vehicles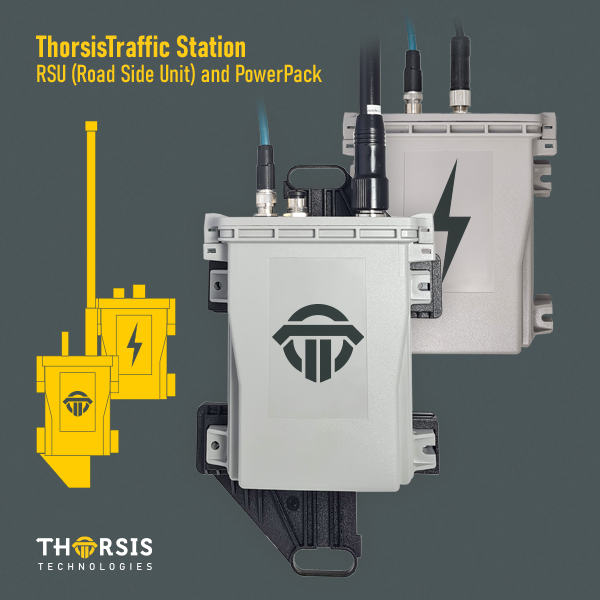 | System | |
| --- | --- |
| Operating System | Linux 5.10 |
| Dimensions | (Box Only) approx. 180 mm x 165 mm x 65 mm |
| Power Supply | 8-42 V DC |
| Power Consumption | maximum 4 W (with LTE Option 7 W max.) |
| Enviromental Operating Ranges | -40 °C to +85 °C |
| Internal Connectors | 2x USB, SD Card Slot |
| GNSS | |
| --- | --- |
| Concurrent reception of up to 3 GNSS | (GPS, Galileo, GLONASS, BeiDou) |
| Antenna | Internal |
| Sensitivity | –167 dBm navigation sensitivity |
| Update Rate | up to 10 Hz |
ITS-G5 RADIO
Antennas
1 or 2 with N-Connector
Tx Power Control
in 0.5 dBm Steps
Rx Sensitivity
-97 dBm @ 3 Mbps
Bandwidth
10 Mhz
Frequency bands
5.850 MHz - 5.925 MHz
(Channel 172, 174, 176, 178, 180, 182, 184)
Data Rate
3-27 Mbps
Antenna Diversity
CDD for TX
MRC for RX
Standards
ETSI TS 102 792 V1.2.1
EN 302 571 V2.1.1
IEEE 802.11p (IEEE 802.11-2016)
ETSI EN 302 663
IEEE 1609.4 – 2016
DATA FORMATS
(LTE/4G)
JSON, DATEX II, MQTT
PER-Encoded for lower data volume
WLAN-IEEE 802.11p
CAM, DEMN
LTE
Antenna
Internal
Radio Access Technologie
LTE CAT M1 and Narrowband (NB1)
Power Class
Class 3 (23 dBm)
Data Rate
M1 up to 375 kb/s Up Link, 300 kb/s Down Link
NB1 up to 62.5 kb/s Up Link, 27.2 kb/s Down Link
Mirco SIM Card Holder
OVERVIEW PowerPack
Cells
6x Type 21700 with 5000 mAh
Power Supply
230V AC
Power out
28V DC if Power Supply is connected
or 22-26 V if Power Supply is not connected
Interface
RS485 for Status query
Features
2 Temperature Sensors
Heater for charging in sub-zero temperatures (°C)
| SYSTEM | |
| --- | --- |
| Operating System | Linux 5.10 |
| Dimensions | (Box Only) approx. 180 mm x 165 mm x 65 mm |
| Power Supply | 8-42 V DC |
| Power Consumption | maximum 4 W |
| Enviromental Operating Ranges | -40 °C to +85 °C |
| Internal Connectors | 2x USB, SD Card Slot |
| GNSS | |
| --- | --- |
| Concurrent reception of up to 3 GNSS | (GPS, Galileo, GLONASS, BeiDou) |
| Antenna | SMA Connector |
| Sensitivity | –167 dBm navigation sensitivity |
| Update Rate | up to 10 Hz |
| | |
| | |
ITS-G5 RADIO
Antennas
1 or 2 with N-Connector
Tx Power Control
in 0.5 dBm Steps
Rx Sensitivity
-97 dBm @ 3 Mbps
Bandwidth
10 Mhz
Frequency bands
5.850 MHz - 5.925 MHz
(Channel 172, 174, 176, 178, 180, 182, 184)
Data Rate
3-27 Mbps
Antenna Diversity
CDD for TX
MRC for RX
Standards
ETSI TS 102 792 V1.2.1
EN 302 571 V2.1.1
IEEE 802.11p (IEEE 802.11-2016)
ETSI EN 302 663
IEEE 1609.4 – 2016
Contact
Request an offer
Support request
Downloads
ThorTraffic enables data exchange via ITS-G5 with passing vehicles through
resource-efficient reuse and sustainable upgrade of existing traffic infrastructure of street lights in cities.
ThorTraffic Station
The ThorTraffic Station from Thorsis is a lightweight, robust outdoor unit with integrated connections for up to 2 antennas. The housing complies with IP67 requirements and thus against foreign bodies, touch, dust and heavy splash water.
Designed for use in smart cities, this RSU provides the maximum achievable signal strength.
With a specifically designed low power consumption of maximum 4 WATT (with LTE Option 7 WATT max.), it is possible to integrate the RSU into existing power networks without installing an additional system.
This competitive advantage allows the RSUs to be easily coupled and maintained at traffic lights, street lights and emergency call boxes.
ThorTraffic Mobile
The ThorTraffic Mobile from THORSIS is a small, lightweight and proven rugged module that can be easily retrofitted to any vehicle.
It exchanges data at high speed over long distances and provides efficient response times to several traffic situations. Complying with essential standards,
this OBU is prepared for demanding conditions in the field.