HART USB Interface with Galvanic Decoupling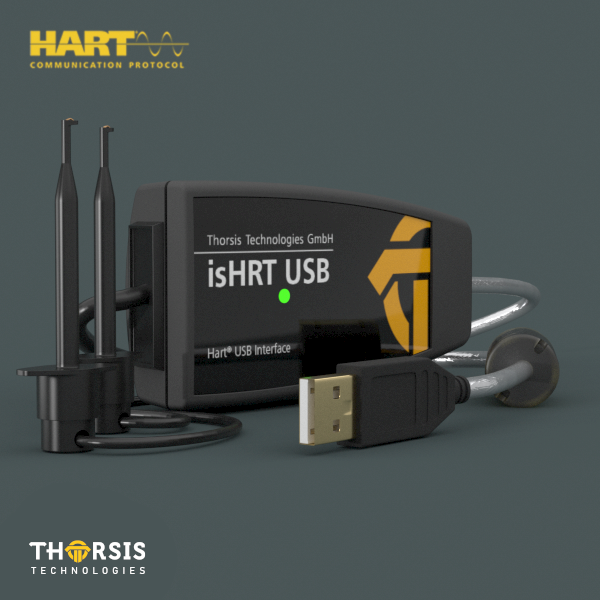 | | |
| --- | --- |
| article number | 14300-0102 |
| interface | USB |
| controller | CY7C68014A |
| modem chip | DS8500 |
| connector | 2-pole current terminal |
| length USB cable | about 1.5 m |
| length HART cable | about 1.5 m |
| operation | up to 16 interface modules in parallel mode |
| power supply | via USB |
| galvanic decoupling | yes |
| transmission rate | 1200 Bit/s (600 Bit/s optionally) |
| driver software | Windows XP, Vista, 7, 8, 10, 11 |
| RoHs2-conform | yes |
| delivery content | hardware, driver, HART Starter pack, documentation German and English on USB stick |
| compatible with | HFC OPC Server (HART Communication Foundation), Simatic PDM (all versions), FDT frame applications |
| available software | isH@RT Device DTM, isHRT CommDTM (FDT 1.2.1) |

Contact
Request an offer
Support request
SDK request
Downloads
The HART USB interface isHRT USB is designed to provide a communication link between a desktop computer or PC notebook and the HART field device. The PC can be taken into the field and connected with the HART network within seconds thanks to the USB plug & play features. Mobile data acquisition, as well as parameterization and diagnosis, are preferred operational areas. The isHRT USB is connected to the HART line by 2 clamps which are the polarity insensitive and provide galvanic decoupling between HART line and PC.
The HART USB interface contains a HART master stack, that is completely executed on the microcontroller inside the interface. This microcontroller carries all tasks related to HART communication like telegram retries in case of communication errors or compliance with timing requirements of the HART protocol. This gives an advantage when using a primary and a secondary HART masters simultaneously or when using a HART slave running in Burst mode. The HART master stack can run as primary master as well as the secondary master.
Additionally, the interface can work like a serial modem under Windows. Therefore it offers a serial COM-port so that already existing applications can be used without any changes. So the isHRT USB is compatible with existing HART software e.g. the HCF OPC server of the HART Communication Foundation.
The driver software also contains the isHRT CommDTM, a Communication DTM for use of the interface in FDT frame applications. Furthermore for integration into customer applications there is an SDK available containing the API description, header files, source code examples as well as a tutorial.
Installation Notes with a 24V Power Source
connect the HART transmitter to a 24V power source
put a 240 Ohm resistor in series
install the HART driver software from the CD of the isHRT USB delivery package
attach the isHRT USB to the PC
connect the clamps of the isHRT USB to the HART loop
in the settings of your HART application software set the HART master mode to primary master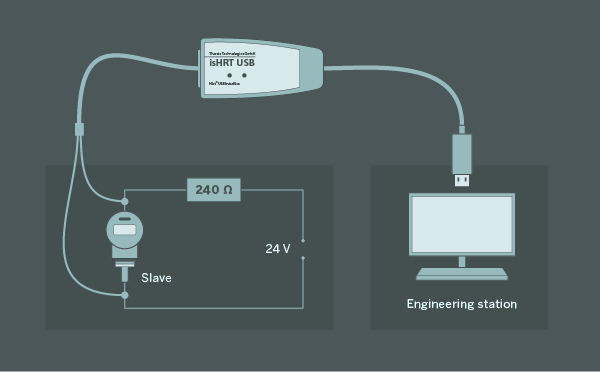 Installation Notes with a PLC (Siemens, ABB, GE)
connect the HART transmitter to the PLC (eg. Siemens-S7, ABB…)
install the HART driver software from the CD of the isHRT USB delivery package
attach the isHRT USB to the PC
connect the clamps of the isHRT USB to the HART loop
in the settings of your HART application software set the HART master mode to secondary master