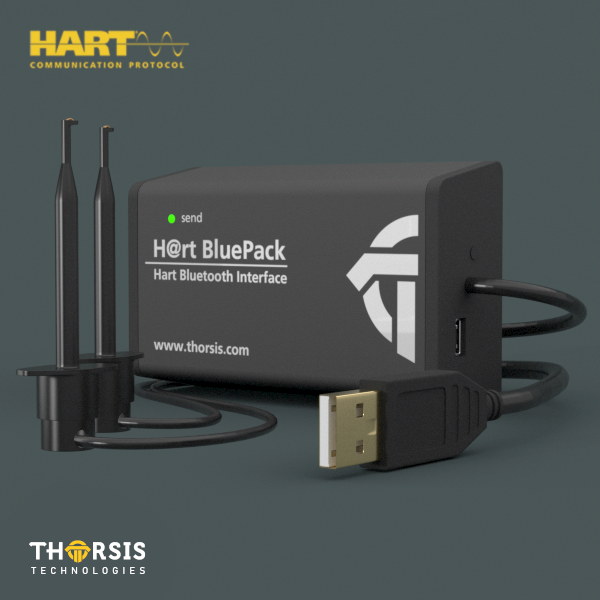 | | |
| --- | --- |
| article number | 14300-2002 |
| interface | Mini-USB, Bluetooth |
| controller | TUSB3410, R8C |
| modem chip | DS8500 |
| transmission rates | USB: 12Mbit/s; HART: 1200 Bit/s; Bluetooth: up to 2,1 Mbit/s |
| enclosure | Polystyrol |
| weight | 106g (without batteries) |
| Bluetooth range | (typically, open area) |
| battery lifetime | 30 hours (continuous operation), 30 days (standby) |
| intelligent power management | yes |
| RoHs2-conform | yes |
| driver software | Windows XP, Vista, 7, 8, 10 |
| delivery content | hardware, HART Starterpack, documentation German and English on USB stick |
| available software | isH@RT Device DTM, isHRT CommDTM (FDT 1.2.1) |

Contact
Request an offer
Support request
Downloads
The H@rt BluePack is a versatile interface which supports wireless (Bluetooth) and wired (USB) access to a HART network. In addition to its modem capabilities the H@rt Blue- Pack runs an embedded HART master stack.
The active HART master stack guarantees compliance with the HART timing requirements regardless of the speed of the PC host application or the data transmission quality between the host and the Bluetooth device. This can be of considerable advantage if using the interface in multi-master environments or in connection with burst-mode slaves. The stack can be configured to work as primary or secondary master.
The interface can be powered via the USB connection or 3 replaceable AAA cells. If operating in battery mode, it can be powered down by an on/off-button. To increase the lifespan of the batteries the device switches to sleep mode if no Bluetooth communication takes places. The activity on the HART network is indicated by an LED at the front of the interface.