CAN USB Interface for CAN/CANopen Networks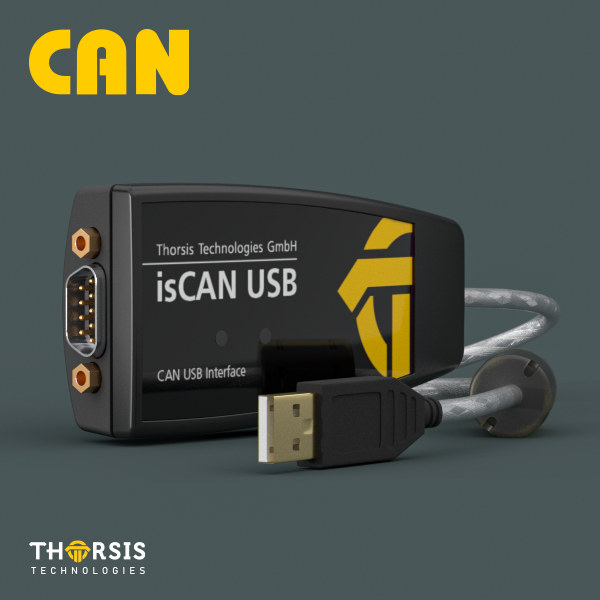 | | |
| --- | --- |
| article number | 11300-0201 |
| USB controller | CY7C68014A |
| CAN controller | SJA1000 |
| CAN transceiver | PCA82C250 |
| CAN specifications | 2.0A (11 Bit ID) and 2.0B (29 Bit ID) |
| transmission rate CAN | 10 kBit/s to 1 MBit/s |
| transmission rate USB | High Speed: 480 MBit/s, Full Speed: 12 MBit/s |
| galvanic isolation | Optocoupler |
| power supply | via USB |
| connector CAN-Bus | 9pin D-SUB according to CiA DS-102 |
| length USB cable | About 1.8 m |
| RoHs2-conform | ca. 1,8 m |
| driver software | Windows XP, Vista, 7, 8, 10 |
| delivery content | hardware, driver-, configuration- and test software; documentation German and English on CD |
| available software | isCAN/CANopen Comm DTM, isCAN/CANopen Server (OPC) |
209,50 €  plus VAT and shipping costs
Contact
Order Request
Support request
Downloads
Description
The CAN dongle isCAN USB with the USB interface grants a fast access to any CAN/CANopen based network. Mobile set-up as well as monitoring are supported. Desktop PCs and notebook devices without installed CAN adapter can be taken into the field and connected with the CAN network within seconds. It is connected to the CAN bus with a 9 pin D-Sub connector according to the CiA specification DS-102. The integrated optocoupler provides galvanic isolation of the CAN network. The device is bus powered, thus not depending on external power supplies, LEDs indicate the actual working condition of the interface and transmission errors.
The isCAN USB interface supports the CAN specification 2.0A (11 bit ID) and 2.0B (29 bit ID). It supports transmission rates of up to 1 MBit/s. The driver software contains a standardized RP1210 driver, that facilitates the use of the J1939 protocol and the ISO15765-2 protocol.
With the included driver DLL user-specific applications can be integrated easily. For application developers, there are header files and documentation available as well as examples in C/C++, C# and VB.Net. Also, an integration into Labview is supported by a Labview driver package. Optionally an OPC server software (isCAN Server) is available.
An OEM solution for our USB CAN adapter can be found under CAN USB OEM.
Application Note
before using the interface just install the supplied software
attach the isCAN USB to the PC or laptop
connect the isCAN USB to the CAN network according to the pin assignment
configure the interface in the installed driver software
with the supplied test software you can check successful installation and operation