FDT 1.2 Gateway-DTM for SIEMENS DP/PA Link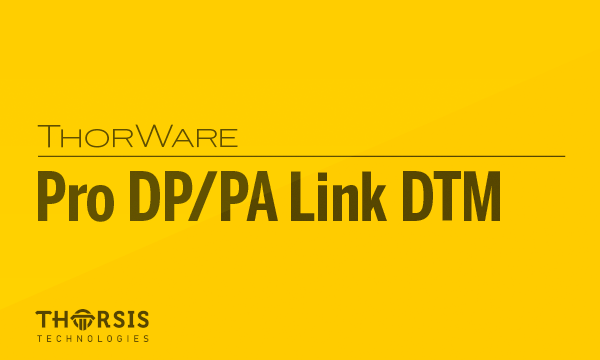 technical data / system requirements
Windows XP, Windows 7, Windows 8, Windows 10
implemented and certified according FDT specification 1.2
PROFIBUS DP/V1 communication
English and German documentation on CD
Support and maintenance agreement for 1 year
features / supported protocols
SIEMENS DP/PA Link
FDT 1.2
PROFIBUS DPV1
single license or site license
related hardware
Simatic DP/PA Link IM157 6ES7 157-0AA81-0XA0
Simatic DP/PA Coupler IM157 6ES7 157-0AD81-0XA0 (EX II Device)
Contact
Request an offer
Support request
The Gateway-DTM isDP/PA Link DTM DTM allows the integration of a Siemens PROFIBUS DP/PA Link
device into any FDT Engineering and Configuration Tool like PACTware, FieldCare or other
FDT-Containers.
The Gateway DTM can be used together with the Communication DTM isPro
FDT and a PROFIBUS interface (Hardware isPro USB or isPro PCI) of Thorsis Technologies or with a communication
interface and FDT software of any third-party manufacturer. So the engineering and
commissioning task for a remote PROFIBUS-PA device can be handled from one central workplace.
The DTM acts as a Gateway-DTM according to the FDT specification version 1.2.
Based on its CommChannel it enables Device-DTMs to connect to a Communication-DTM and
hereby provides following functionality:
Communication to PROFIBUS PA devices attached to the Siemens DPPA link via DP/V1 communication
Fieldbus configuration of the attached PA devices and their Device-DTMs
Diagnosis and maintenance of the PA segment with a graphical user interface and a scan of the
PA segment. Attached devices are shown in a list, the address can be changed via the DTM.
The isPro DP/PA Link DTM have been tested with following devices:
Simatic DP/PA Link IM157 6ES7 157-0AA81-0XA0
Simatic DP/PA Coupler IM157 6ES7 157-0AD81-0XA0 (EX II Device)