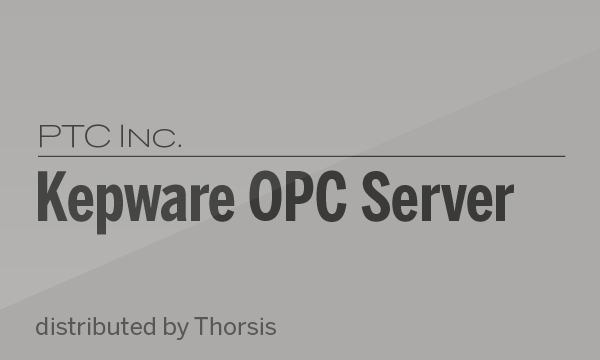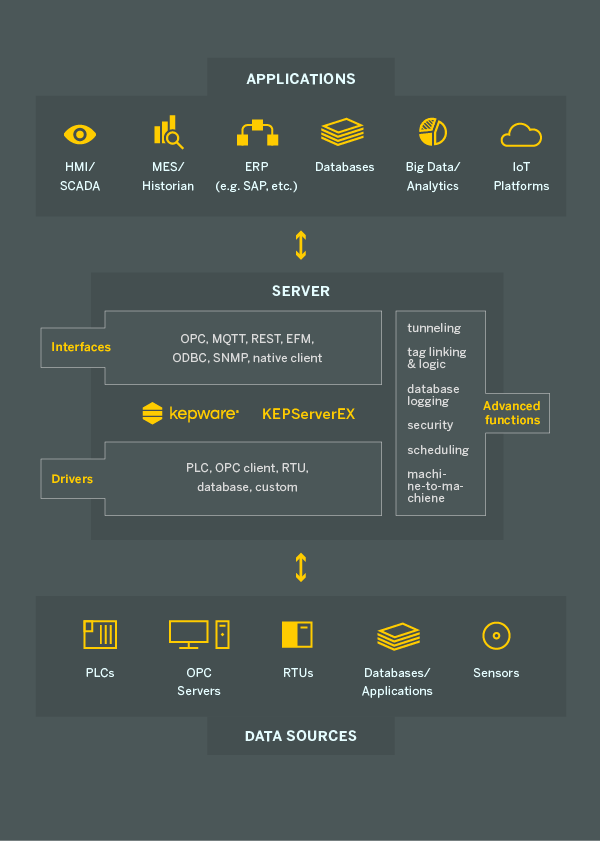 Contact
Request an offer
Support request
The Kepware OPC Server KEPServerEX is a powerful industrial connectivity platform with drivers for more than 160 different controllers. The server is thus a central data source for industrial automation, OPC-UA applications and thus for Industry 4.0 solutions.
KEPServerEX delivers the connectivity, usability, and performance that modern enterprises need.
Compatibility

: Seamless flow of information from the field device to enterprise-wide business control

Scalability

: The modular design ensures precise matching to the required functionality with simultaneous expandability, without disturbing existing processes.

Interfaces

: KEPServerEX supports a large number of standardized interfaces such as OPC DA, OPC AE, OPC HDA, OPC UA, OPC DDE, OPC XML DA, SNMP Agent, MQTT, REST and database connection. At the same time interfaces for special systems such as Wonderware or Oracle are offered.

Plug

& Play

: The installation of further device drivers is possible at any time, as needed

Central

: KEPServerEX centralizes the communication and as an aggregation server can bring together a wide variety of application areas. The communication load is controlled as needed.

Reliability

: The KEPServerEX OPC Server meets the highest quality standards, is robust, user-friendly and certified OPC-compliant (OPC UA server).

Security

: Several tools are provided to control user access. Similarly, the connections between the server and the client applications can be configured via secure data channels.

Diagnostics

: Device and application communication are isolated from each other, which facilitates troubleshooting and provides OPC diagnostics with views of real-time and historical OPC events. KEPServerEX also supports communication diagnostics to capture the log frames transmitted between the server and any device.